Dear Reader:
You are viewing a story from GN Version 5.0. Time may not have been kind to formatting, integrity of links, images, information, etc.
Idea Factory has announced that they are bringing two Otome visual novels to Nintendo Switch. Hakuouki Shinkai: Ginsei no Shou will be coming to the platform on July 30. There will be a regular edition (6500 yen) and a limited edition for a staggering 8500 yen. The package includes a special booklet and two drama CDs. Here is an overview translated by Gematsu...


December, 1863 (third year of the Bunkyuu era).

By some strange fate, Chizuru Yukimura, who came to Kyoto in search of the father she lost contact with, encounters the "Shinsengumi" a group of killers feared by the people.

Chizuru decides to work with the Shinsengumi to search for her father, and by witnessing their behavior first-hand, will come to learn that they are not the killers that the world proclaims them to be, but rather men of conviction.

But the time is end of Edo era-Kyoto. When night falls, assassins stalk the streets, and in the Shinsengumi, a man named Rari awakens. And the swordsmen who call themselves "demons" move in the shadows.

However, such violent incidents did not occur every day—there were some nights to gaze upon the beautiful moonlit sky, or the vibrant city of Kyoto through the seasons.

This is a collection of stories in between the violence of those few years. From the moment Chizuru came to Kyoto, and until she saw the Shinsengumi's last stand.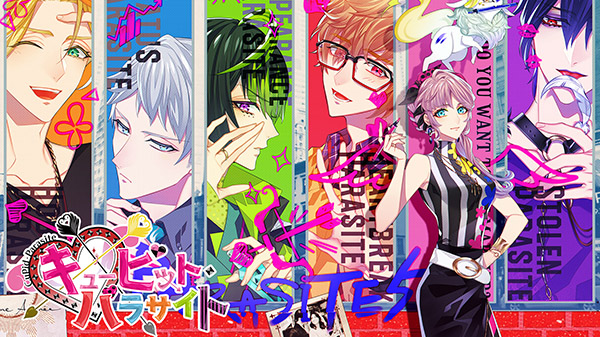 The second game, Cupid Parasite, is launching on August 20 for 6500 yen. Once again, the limited edition will set players back 8500 yen and offers a drama CD and bonus booklet. Another overview translated by Gematsu...


"Cupid Corporation" is a major marriage consultation office located in the hip city of Los Anyork.

The heroine, a top bridal adviser who helps Los Anyorkers dreaming of a happy marriage to tie the knot, had a huge secret she could not tell a soul.

Her secret… she is the actual Cupid herself, descended onto the human world as a runaway from home after getting into a fight with her parents!

One day, at 5:00 a.m. in the president's office—.

"Marry off these five and I will give you a promotion. You are our top bridal adviser… Do you think you can do it?"

The president said that she would marry off the "Parasite 5," known as troublesome within the company.

In the midst of interviews, seminars, and advising, it was decided they would appear on "Parasite House," a marriage life co-living TV show that would also serve as promotion for the company, and that she would live together with them—!?

Will the heroine, who even as Cupid herself, have difficulty dealing with this group? A goddess x marriage life love comedy full of difficulty and unpredictability is about to begin—!